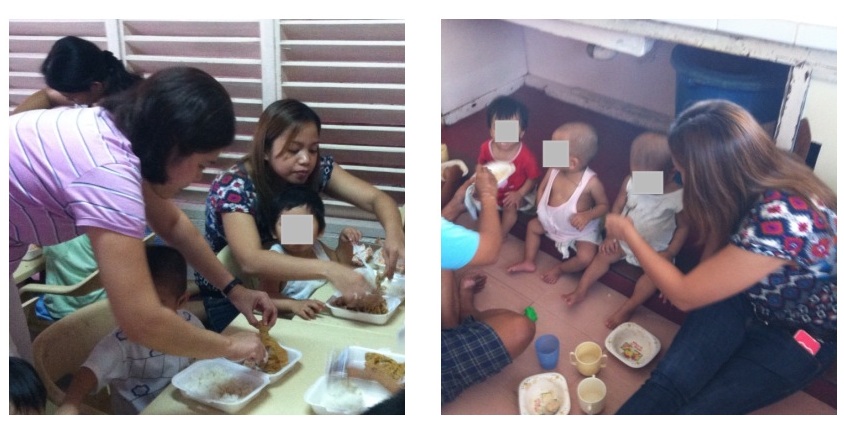 Didn't I tell you I love Wednesdays? Check where I spent mine today. 
Today was a different type of high for me. It was only nearly a 3-hour activity but I am still feeling the after-effect of it all. Mc's bestfriend, VJ, and his wife Rose wanted to share their blessings to an orphanage in Cebu. I suggested the Missionaries of Charity. I had frequented this place a few years back with Ang Lingkod ng Panginoon community. This was where we spent our charity work every 3rd Saturday of the month. Rose had joined us once and she remembered she vowed to come back there soon. Today is the day.
We bought big cans of Nido milk for their supply and Jollibee chicken meal for lunch for all the kids. At around 9:30am, we were on our way to Pasil for the Missionaries of Charity home. The Missionaries of Charity is an order founded by Mother Theresa of Calcutta. It's primary task is to love and care for those persons nobody was prepared to look after. Their vow is to give whole-hearted full service to the poorest of the poor. This home at Pasil is a home for the sick and malnourished children.
The kids greeted us with big smiles and started to bless their food by singing "Amahan Namo" prayer. Also there to share their time and love was a group of brother missionaries from Indonesia and Vietnam. Because it was only 4 of us and so many of the kids, the brother missionaries helped feed the kids together with the in-house volunteers. We helped them break their food into smaller pieces. To some, we also fed them. The kids love Jollibee chicken. They especially love the gravy. They eat it like soup. So cute! :) For some kids, the food were blended so they can eat them in semi-solid form.
Ever wondered where the children come from? Well, I asked that in a chitchat with the sister nun. Some children were delivered at the Home's gate by their mothers. Some were from Social Welfare straight from birth at the hospital. Yes, these children were abandoned. They only have the volunteers to care for. The children are sick with malnourishment, tuberculosis, cerebral palsy, and some others. When they get well, some parents do come back to get their children.
After the feeding, the infants were given baths and were sent to sleep. I noticed one baby crying in his crib and so I picked him up and started to dance in sways and hummed him a song for sleep. After a few seconds, I already felt him getting comfortable hugging me. In a few minutes, he was snoring. I felt very happy and fulfilled. There were also 2 infants that I found myself very fond of. They were very sweet and always smiling.
I left the charity home with a heavy but happy heart. I will definitely come back here and give more love. This time, I'll bring the whole family. My sister would love to be here too.
If you want to help, the kids need supply of multi-vitamins and medicines for fever, colds, cough, and deworming.
How to get there?
Missionaries of Charity is found at Barangay Suba, Pasil, Cebu City. From Pasil Church, turn right and then turn left. Just go straight. The home is found at the left side. I suggest you call ahead to schedule your visit. The number is (032) 261 9097.

The road towards the home is very narrow and congested. Bringing a big and wide, or luxurious vehicle is not appropriate.
P.S. There is a law that protects the identity of the children who you do not parent. This is the reason the faces of the children in these pictures are covered.
---