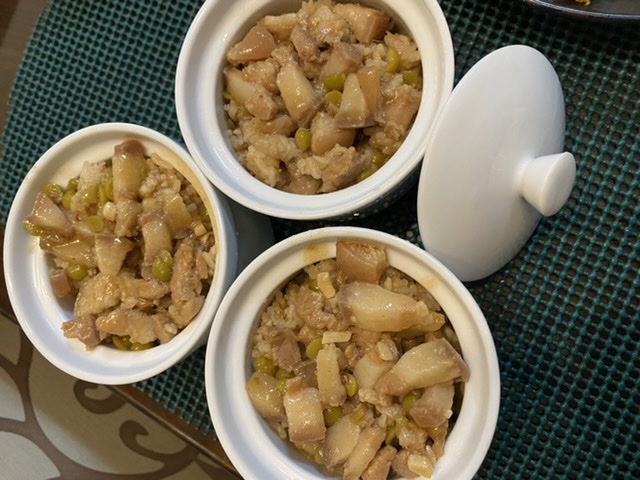 I miss Harbour Dimsum-style Steamed Fried Rice. All the other recipes online are so complicated with ingredients that I don't usually use in the kitchen.
Here's a recipe that is simple yet meets the taste I need.
Steamed Fried Rice - Harbour Dimsum Style
Ingredients:
1/2kg pork (Pigue and then cut in small pieces). I only had bacon-cut pork yesterday.
1tsp oyster sauce
2tsp cornstarch
1/2tsp sesame oil
pepper
salt
3cups water
100g shrimp, sliced
small canned peas, drained
3tbsp soy sauce
2tsp sugar
1 tbsp cornstarch dissolved in 3tsp cold water
Sesame oil
Note: You may opt to use less pork but add Knorr pork cube to get the pork broth you need. If you use that, adjust your soy sauce as it will already make your broth salty.
Procedure:
1. Marinate 1/2k pork in 1tsp oyster sauce, 2tsp cornstarch, 1/2 tsp sesame oil (optional), pepper and salt. Marinate for 20mins.
2. Saute garlic, onion then pork (not include marinade sauce). Add 3 cups water then simmer until pork is tender. 
Add marinade sauce.
3. Add 100g shrimp, small can peas, 3 tbsp soy sauce, 2tsp sugar, 1tbsp cornstarch mixture.
4. Simmer until sauce thickens.
 This is how the consistency should look like. 
For Fried Rice:
1. In a pan, saute garlic. Add 3 cups of rice, 1tsp oyster sauce, 1tbsp soy sauce, and a few drops of Seasame oil (optional). 
---