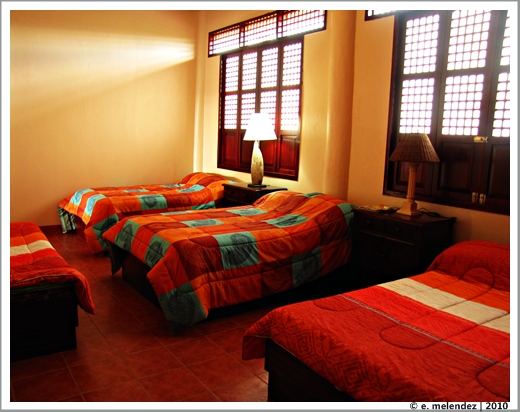 Did I tell you Cebu is beautiful? Cebu is BEAUTIFUL!! And one of the best reasons why is Hale Manna.
In our quest to give our friend Chris-Arjay and their family a Filipino vacation they'd never forget before the "great migration" (as they will migrate to Canada), we decided to treat them to Moalboal. Hale Manna is beautiful. It is located at Barangay Saadvedra, Moalboal, Cebu. The name suggests it is a house of good energy. Our experience, indeed, gave the house a lot of good energy! I simply love it! I honestly do.
The place gives a homey feel that you can't help but immediately feel comfortable and relaxed as soon as you enter the door. The rooms are cozy, huge, and very nice. The comfort room was one of the first few rooms I took a peek at and it passed with flying colors. The views of the sea were breath-taking. Your jaw just simply drops in surrender that God is real! God is such a great artist.
The food was to die for. I came here with the mindset that we will be eating pizza whole day. Because of that, we bought the famous and equally delicious lechon, and 1 kilo of chicharon from Carcar. To my surprise and delight, we got more than we expected. Take a look at our food in the photos. Don't they leave your mouth watery? Oh yes! Yummy-licious goodness! The food sealed the deal. I am in love.
Hale Manna is the perfect getaway from your usual routine. I explored Moalboal by kayaking. The waves were a challenge but it was all good. For the first time, I did not mind getting any darker. I feel like I have discovered a site no one ever knew existed. The view from under the sea is also awesome. Snorkeling is one of my favorite activities there too. Just be sure to generously apply sunblock all over your body as you would not want to be out of the water too soon, I'm sure.
Before we left, we made sure to meet the owner, Becky Smith, and let her know she has a wonderful place. Becky is in the group picture in this post.
Come and visit the place with your significant other, your whole family, your team! You will love it as much as I do.
How to get there?
Go to Moalboal then to the highway to BasDaku Beach. Hale Manna does not have signage yet. Follow the road and follow the signage to Blue Orchid. Hale Manna is the resort before Blue Orchid. If you get lost, just call the place for directions. They also offer pick-up.
For reservations and inquiries, you may call +63 32 512 7134 or +63 917 896 0257.
To know more of Hale Manna, check out their website.
---