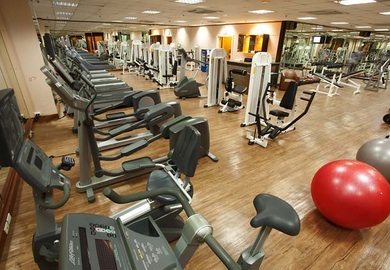 I've been feeling depressed lately. Yes, depressed -- spending more time on bed crying when it could have been spent on other productive things.  
Who's the one person who'd never let you down? You. It's always been you. Don't ever rely on somebody for your happiness. So, I thought of spending more time with me. And what's the next best thing to shopping that me, myself, and I want to do? Working out! I decided to go back to the gym. A friend of mine, namely Roger (Blushama founder), once told me that if I am feeling depressed or cranky, always check my SSEs - Sugar, Sleep, and Exercise. If you lack any of those 3, that could have been the cause. So, exercise that is!
For choices, it has always been a no-brainer. I go to the Fitness Center of Marriott Hotel. It's small and intimate, not filled with a lot of people, and only a walking distance from my workplace. It is also a walking distance away from Ayala mall if you decide to go grab a healthy meal after. If you work at the company I'm working with, you'll only pay Php1,500 per month for usage. That's a huge discount. You can also opt to pay Php2,400 for 20 sessions that is good for 2 months. The sessions are also transferrable. You can bring your friends or guests to workout with you. Mainly because it does not force me to consume all my sessions in 1 month, I chose the latter. After all, I don't intend to go to the gym every day. Three times weekly might be a more feasible schedule for me.
Amenities include use of gym equipment, shower room, sauna room, and use of swimming pool. Liquid soap is available in their shower rooms too. How cool is that? After bath, you can also use the hair dryer. Clean face towels and bath towels are provided too. Everything for free use. Their gym instructors will create a fitness program for you. You just have to ask. Did I mention wifi? Yes, wifi too.
You know what sealed the deal for me? Of course, parking space! Parking will never be a problem. You have dedicated parking space at The Terraces of Ayala. Fitness Center of Marriott Hotel simply works for me. :)
After a month's time, I am hopeful I'll be seeing good results - both phsyically and emotionally. :)
<picture taken from Marriott site>
---