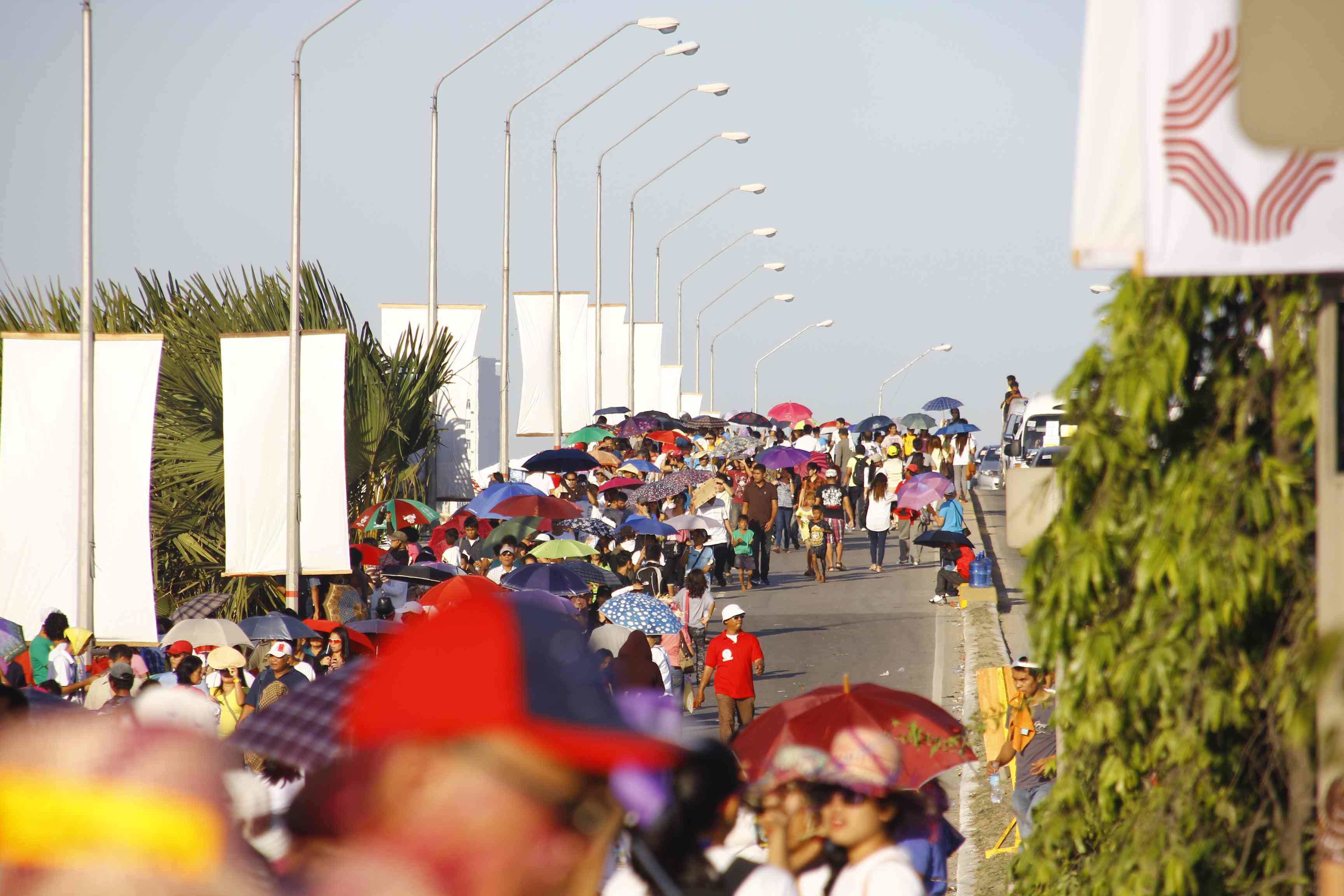 It's 10:22pm and I just got home. It was a very long day indeed. Today, I was part of Catholic history. San Pedro Calungsod was born and raised in Cebu. The saint has come back and made us all proud. The 27-hectare of land was packed with so many people. It was filled not only by Cebu residents but also from all over the world. I would estimate the number of people to reach around 1 million. Yes, that crazy! :) Parking area was not a problem for all who had passes. The parking guide was very helpful. I was fortunate to have an A red pass as I was relatively near the Templete. It was a peaceful event, I guess, because a few minutes just now, Philippine National Red Cross @philredcross twitted, "Thanksgiving celebration for San Pedro Calungsod has ended safely. A total of 15 patients with minor cases were catered by Cebu Chapter."
The atmosphere was festive and holy. There was no worry of food and cold water because you can buy them anywhere the area. Portable toilets were available too. You can even get free splashes of alcohol to sanitize your hands after. The weather was cooperative. It was sunny and windy. Tents were around to give shade during the morning. LCD projectors were placed strategically at the area too. That way, everyone there gets to see the altar. The sound system, though, failed to deliver quality sound. The good thing about that is that people were obliged to go nearer the altar just to hear the ritual. :)
Before the mass started, choppers were flying low throwing petals of flowers all over the area. The event started with parade of saints. The different saints came from their different church locations followed by their devotees through procession. Most saints came in land while Sto.Niño and San Pedro Calungsod came from the sea by fluvial parade. There were probably more than 50 saints on their carriages that attended the parade. The mass was attended by several famous personalities including media men, politicians, Cebu's very own Cardinal Vidal, a papal priest straight from Vatican, and president PNoy himself. What I found unique about the mass was the format of the Prayers of the Faithful. Each prayer was read in different dialect. Some I recognize and understand. A prayer was read in Illonggo. Another, I think was read in Spanish or Zamboangeño. It was indeed a community prayer. I was also amazed how big the host was. It was probably the biggest host I've seen. The choir was huge. The bleachers were filled of them. As later reported, they were 1,000 voices all in all.
I enjoyed the whole event more because I came prepared with my cap, umbrella, portable folding chair, some food and cold water, and a small waist bag for my must-bring things. I, however, missed to bring headache medicine. Because of the heat of the sun and too much light, my migraine was bothering me again. I kind of expected it but failed to bring my medicine still. Good thing an aunt of mine, who we happened to see, brought with her Tylenol. Ahh... such an angel! In a few hours, my headache was bearable.
I offered my day to San Pedro Calungsod. His prayers are powerful. Thank you, Pedro Calungsod. Please intercede for our miracles.
---