When we entered the place, a colleague of mine commented, "Ay bahay ni Mara Clara at Padre Damasu. Nasaan si Crispin?". He's referring to the famous characters of Jose Rizal's Noli Me Tangere. The house, now turned restaurant, looks like an old mansion from the Spanish era. Sitting nicely on the table is a picture of the old house before it got repainted. It's beautiful. I could imagine it must have been a comfortable house then.
As we were starving, we got down to the menu and ordered meals. We made sure not to have duplicate orders so that we can each have a taste of the food. Very wise indeed! :) It took them 15minutes to serve our food. It's considerably a good wait time. 
This is the Chicken Bringhe, Tumeric & Vegetable Paella Cake. It costs Php275.
This is the Crunchy Slow Roast Pork Belly, Php350.00.
This is Boneless Pork Loin Chop with Roast Garlic Sauce, Php295.00. It also comes with Spicy Pink & Black Peppercorn Sauce and Creamy Diane Herb Sauce. Creamy Diane Herb Sauce is a familiar Filipino taste. If you're not adventurous with food, I suggest you choose this sauce.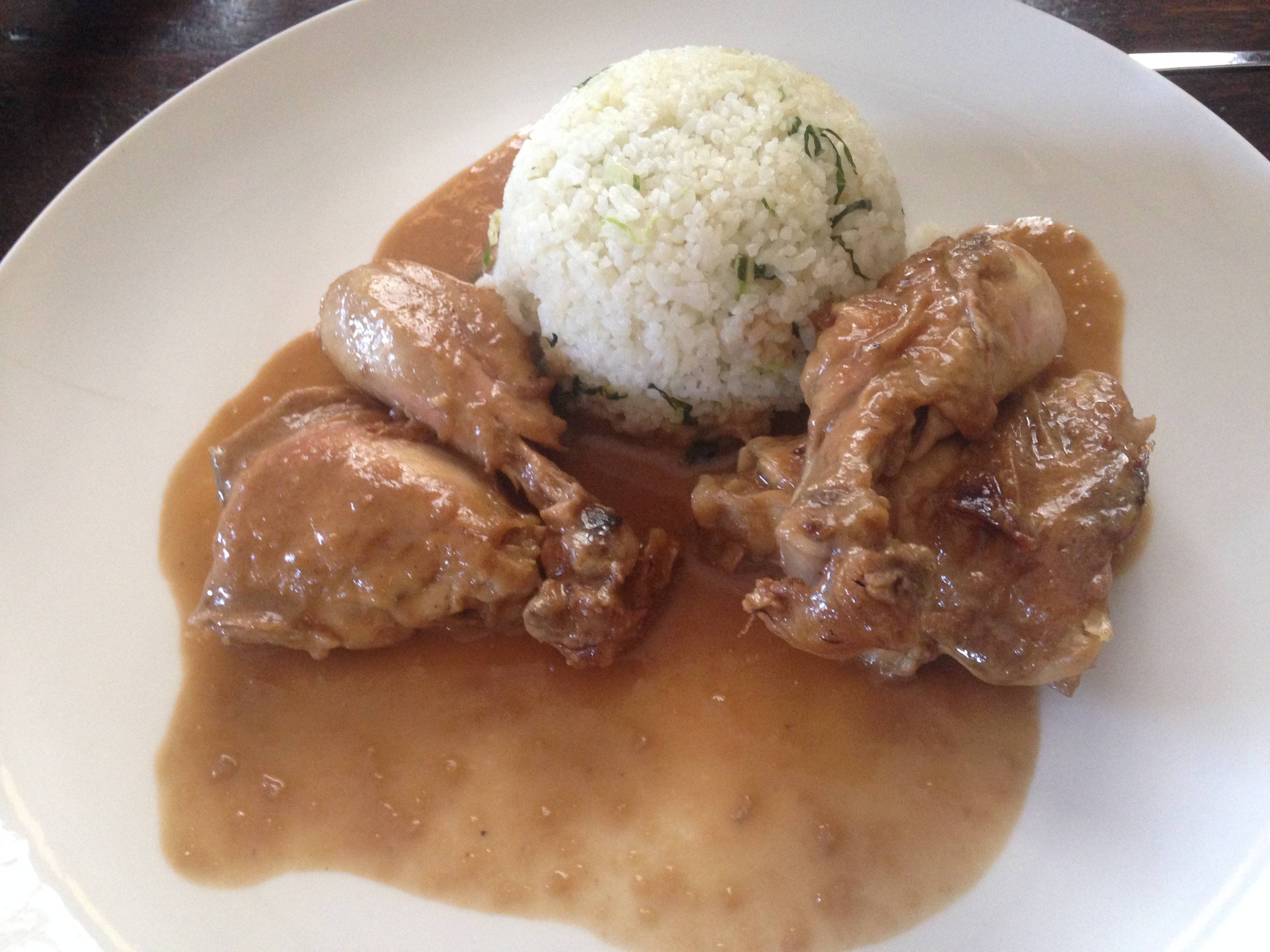 This is Chicken Summerd in Cocodobo Sause, Php325.00. As the name suggests, it tastes like chicken adobo but uniquely different too.
The restaurant is not for the faint-hearted... or should I say, not for the weak wallets. LOL Food is expensive but very well worth it. :)
Be sure to bring cash. As of this writing, they don't accept credit cards yet.
The place is good for work meetings as they also have function rooms. You can bring your friends too as they have great selection of wines as well. I have not been at Circa1900 at night but I'm guessing it turns into a musical house because I see a Grand Piano too. Nice. Two thumbs up! :)
How to get there?
Circa1900 is located at Sanjercasville Road, Gorordo Avenue, Lahug, Cebu City. You'll find a signboard at the road near JY Square. At the end of that road is Circa1900. Check out Circa1900 Facebook page for promo information. Call 0923 279 5616, (032) 239 6265 for reservation. Restaurant opens 11:00AM-12:00Midnight.
---